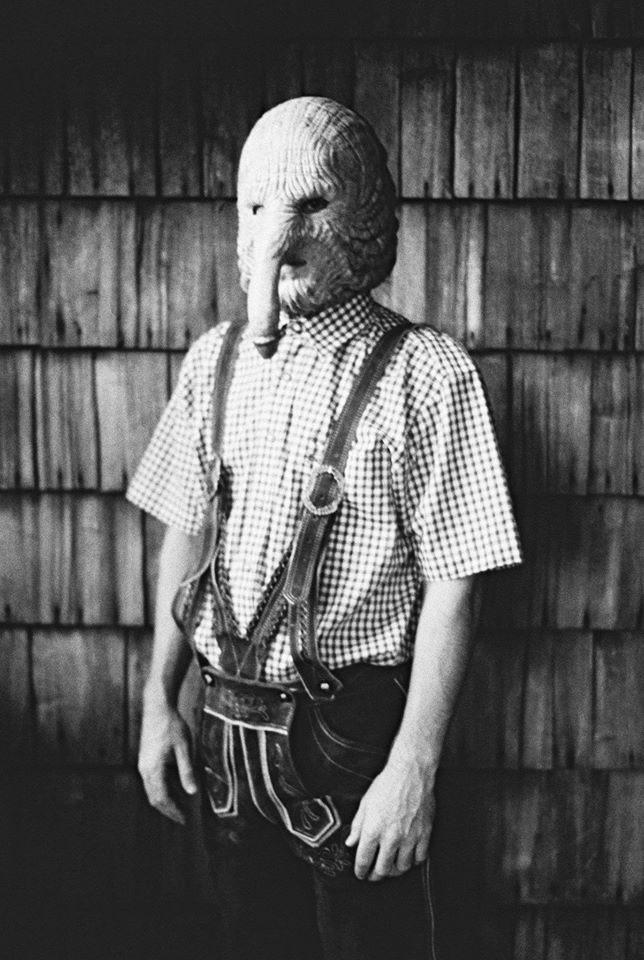 An ongoing mutation through music, character design, creature effects, and animatronics.
You are cordially invited to meet the first of many faces of Dr. Reecard Farché, the devious mastermind and shapeshifting convict bred deep in the darkwood of the Australian bush that later absconded to Rise to the Summit of the übergründé.
Born in 2008 but producing music in many forms for over a decade beforehand, Anklepants has steadily released over 20 singles, EPs and full-length albums on his own Qwerty Records imprint, with more recent releases on Love Love Records and Detroit Underground. Actively performing all over Europe over the past five years in support of diverse artists such as Christian Fennesz, Dopplereffekt, Luke Vibert, and Lory D, his distinctive face rose to fame through his notorious Boiler Room set alongside Otto von Schirach, Anstam, Candie Hank and NHK'Koyxen this past June 2014 in Berlin.
Anklepants combines a vast array of hardware and instruments including synths, guitar, oud, voice, animal / any sounds, and field recordings. Live he comes armed with self-built electronic instruments such as his Facé_control 2 microphone (a wireless physical computing delight) and a colourful sensor laden wardrobe. Distorted mutated vocals, disassembled musical blurbs, glitches reflecting diverse influences – there is something restlessly changing in his music, at times generating a semblance of light and easy party superficiality, while at others looping into weirder multilayered territory through performances that more often than not leave audiences bewildered.
One of the rare artists that actively takes connecting with his audience to heart, Anklepants can often be seen hustling around the dancefloor with his facé_control_2 cordless mic. Such seeming madness in fact hints at the various political underpinnings of his musical mutations: "A lot of the underground music is marketed in the exact same way as the mainstream music now. Which I know is obvious, but I think it's very important for people to realise that. People use the term 'underground' or 'experimental,' but most of the time it's really just not. I don't know if it comes out in my music." (interview with electronicbeats.de)
Anklepants is an electronic music creature that represents only one of Reecard Farché's infinite personalities. With no face for one genre, expect Farché to morph into ever-new combinations of characters and music, creating an entire universe of musical personalities over time.
Press
"Even if there may be loads of musicians wearing masks at the moment, there's no-one like Reecard Farché. He's an alien that came to earth to celebrate otherness in all its awesome and weird aspects. That literal dickface founded his one-man band Anklepants a couple of years ago. With this project he creates a yet unexplored parallel universe that is full of foreign sounds, its very own way of writing and an unconventional beauty".
→ Marieke Fischer, indie-mag.com
"Creating a unique character for a performance persona, Farché's Anklepants is truly one of the most unique musical projects in the electronic dance music world going. in terms of matching performance with technique and composition."
→ Tom Murphy, Denver Westword
In the live situation The Facé of Reecard Farché is one of the More unique parts of Anklepants live show.
The microphone of Reecard "face control 1" is a wireless extravaganza of vocal manipulation and face control , with an array of buttons joysticks and sensors that can control both effect modulations and re-rout inputs for face manipulation.
In 2010 Joshua relocated once more to London Giging Constantly in Europe at Nights and venues such as Maria-Berlin , Bangfacé-london , Kreatures Night-Corsica studios-london alongside an array or planet mu artists And Museums such As Benaki-Athens and continuing to work in the creature effects industry on many Feature films.
Also in 2011 saw the release of Anklepants 1st 12 inch on INTERAKT records london.
"Hyper-kinetic Electro-steppers from Anklepants aka Dr Reecard Farché, the ridiculously titled 'Insideyourface…' is a display of dynamic programming dexterity, all elastic synthlines and splattered electro-meets-dubstep rhythms like Cane meets 16 Bit"
BooMkat.
This adds to his discog already well over 20 titles , on many labels including his own Qwerty records 2008-present.
Reecard Has now completed his next full length album that is due for release in 2012 Titled "Social Patching".
Shooting has begun on videos/short-films , for many tracks on this album.This will se new characters and instruments emerge to join Reecard in his quest for a neutral world.
Be sure to check out his live show when its in your near by town city place facé head.