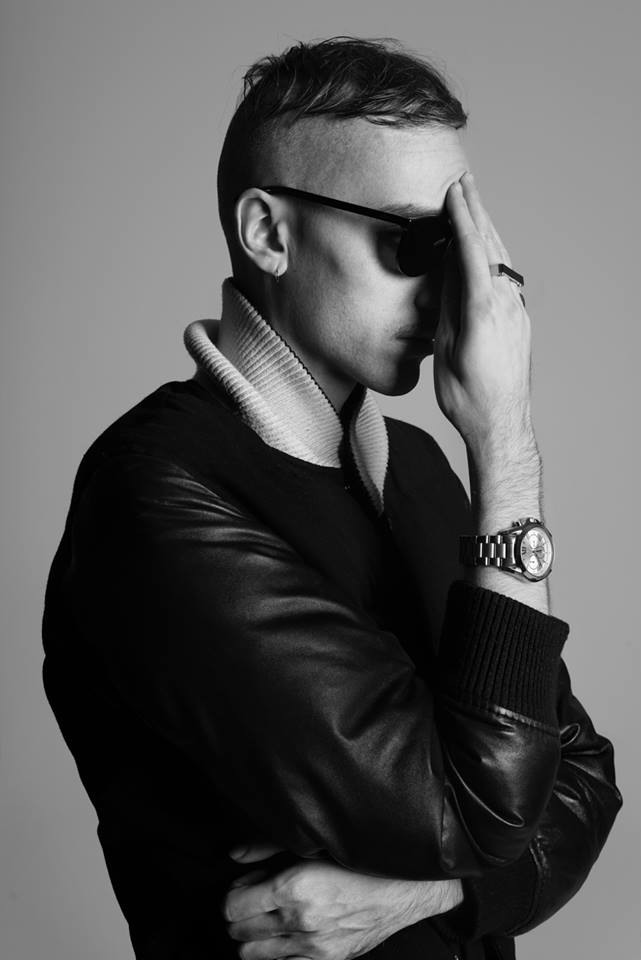 Street-smart and wise-beyond-his-years, Jimmy Edgar wanders the desolated streets of junky occupied steaming sewers, an urban ghost town under deconstruction. Reeling through a jungle of industrious landscapes, abandoned buildings, isolated alley ways and homeless people. In the midst of which lies intense feelings of jadedness and despair that makes the city all the more musical in its thriving evolving decay, and being the inspiration to a unique style which critics rant as being: Songs with "a richly textured character –softly softly blending a hazy arrangement of static with an engrossing nighttime beat. Scratches galore and moody electronic pulses… via some glorious Detroit Neon," Boomkat 2002.
Poster child of sound couture Jimmy Edgar, who dropped studies in fashion and design to concentrate on making music, has a background of art production and style which reads much like an urban landscape dissertation. Snatching all kinds of influences from his Detroit dwelling: the city's decay, urban fashion, and the city's eclectic music scene, Edgar manufactures unique and provocative ultra modern sound environments.
The alleged young prodigy 19-year old Edgar has been stitching beats since he was 10, when he started producing sounds electronically and fashioned his first analogue pieces. Influenced mostly by Jazz, funk, street beat and r&b in these early years, He began his musical pursuit by playing the drums in experimental bands and by making tape recordings.
"At first it was mostly experiments in sound, acoustic space, pretty minimal stuff," comments Edgar, "things like tape loops and tape manipulation."
Most of these recordings, consisting mainly of pitch bended tape loops, cut edits, field recordings, and noise tracks, were the beginning of his experimentations with the technical aspects of production.
Jimmy's intense passion for music also propelled him at a young age to learn to play any instrument he could get his hands on, including string instruments, saxophone, and mostly percussion/drum set . This is more obvious in recent releases in which he shows off his talent by playing exquisite funk and jazz keyboard solos.
By the time he was 15, he started performing at Detroit raves with contemporaries and techno pioneers such as Juan Atkins, Kevin Saunderson and Derrick May.
In February 2002 Edgar signed his first record deal with NYC based Isophlux Records, following a release of a techno track called "We Like You" on the German label Poker Flat. Then, after only hearing one of his tracks, Miami based M3rck Records immediately signed him and released his first full length album "My Mines I" [merck009] by the "dual alter ego" kristuit salu vs. morris nightingale.
XLR8R rages about the album: "Edgar-under the name Kristuit Salu vs. Morris Nightingale-layers clipped clicks, chopped vocals and brittle high frequency sweeps over SETI pulses and random-access rhythms. This is hip-hop beamed in to deep space, where the sound fragment in a sunspot before returning, riding bare back on slowly weaving radio waves. Warmed and crackled jazz chords roll slowly like clouds as beats tick through random static. Time will come, not so far from now, when folks will reference My Mines I in the file marked "Future of HipHop."
After the release of "My Mines I" in February of 2002, Edgar started getting some attention which lead to touring cities in the US, including New York City, performing at the infamous experimental music fest the Miami Infiltrate, Vancouver and selected cities in Japan. Touring he got a good response from his live performances as he carried a distinctive energy on to stage and incorporates visuals such as synchronized projections. He was also asked to perform at the Detroit Electronic Music Festival 2003 which was his debut as a Warp Records artist, and in which Detroit witnessed a legend in formation as even the security got down with the local break dancing squad.
Michaux, [audio.nl 2003] is one of a series of releases Edgar has recently produced and of which Boomkat crazes about, "Running viral programs during his work on this music, Edgar manages to shape glitch into the very matter of electronic music: the software. One of the finest releases on audio.nl.without doubt…
Edgar's (has a) way of honing the beat, reducing the essence of a tune to its prime components and then subjecting it to some of the most original treatments you'll hear on any disc, at any time, anywhere…"
Growing up in the birth place of techno and being inspired by it, Edgar carries an intense passion for the genre and feels has a lot to offer to its development and the new branches emerging from it — such as intelligent dance music and severely electronified hip-hop. However, he's gotten most of the attention from a style coined as glitch and error, which he gravitated towards for personal reasons — considering himself an error due to childhood mayhem he keeps a mystery.
Although now he mainly focuses on polishing this unique deconstructive style, as any well rounded artist he is not limited to expression through music. The visual arts he creates to go along with his sound environments are equally important to him. Jimmy's influences today are also surrounded by avant-garde art movements such as minimalist concepts and strict colour schemes. Lately he's been getting recognition for his installations and visual artwork — both digital and handmade. Recent installations have been created with visual elements such as 8 LCD screens playing synchronized static accompanied by user friendly interaction with pitch bend to offset the harmonization and eventually blending.
Moreover… no stranger to guilty pleasures – rather a cerebral sponge absorbing any creative juices his surroundings have to offer – Edgar has made his Detroit experience the central focus of his much anticipated upcoming Warp album. Displaying this hub with song titles like: "urban outtake," "re: city alley," "is this a real city," and recalling Detroit legendary parties sometimes getting out of hand, giving way to additional titles such as "loft party," and "I wanna be your STD."
These new releases are very funky and Detroit sounding, yet display in a unique 'rhythmical fashion' a new sound that reveals a transition into a polished version of the kind of music Edgar always wanted to create. Managing to remain fresh and unique in its eclectism yet retaining his minimal aesthetics of breaking the rhythm and melody down to its prime components creating a tight ultra-modern R&B glazed feel. Combining a variety of genres such as funk, r&b, soul, hiphop – even classically influenced tracks – this album carries superb character and a whole lot of attitude.
A lot of the tools used in the production of this new album, including instruments and software, were custom made by Edgar. Therefore differences in sound should be expected due to changes in prescription. Edgar agrees this is his most advanced production as he has grown as a programmer and musician and is confident of achieving specific results. So his work can only be expected to get better from here on.
Irreversibly, Edgar's music carries much Detroit techno influence yet it goes beyond that as to create a Detroit ambience. He's fascinated by the thought of creating urban feeling through his music. As with other forms of his creative expression, he develops new ways to express what he wants by researching and experimenting , in this case is to capture inner city life with his songs – which is essentially the feel that came out of the upcoming LP. Likewise, and another distinct element of this record is – the movement – composed of a lot of changes and surprises expected from Edgar and adding to the anticipation he himself makes as a person. 'access rhythm' EP is expected to be released on January 2004, following the full length 'bounce, make, model'.
This album "is a little bit of everything, but a whole lot of me," says Edgar. "This music describes ME, and my environment, like nothing ever will."