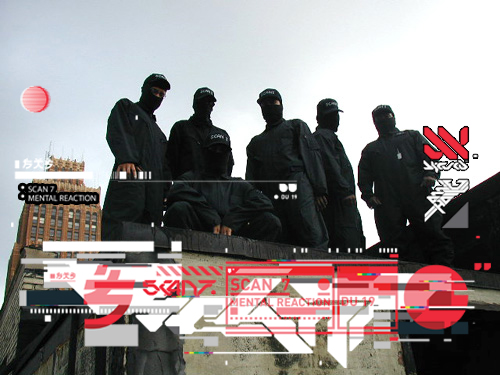 SCAN 7 
MENTAL REACTION 
DETROIT UNDERGROUND 19

After many years of collaborative work we are wildly ectatic to present — finally! — Scan 7, fabled anonymous masters of stealth, activism and classic Detroit techno.    Mental Reaction and Noise Tension are two new 'zenith' recordings shifting the order of things to reveal dark energy amid consistent, intense forms of brightness.  Punctuating the diptych is a ground pounding, break-oriented remix of Mental Reaction by du's Annie Hall.  State of the art graphic futurism by dmas3 makes strange any sense of normality cutting new forms for productive living in an ever-expanding universe.

Scan7 – Mental Reaction – Annie Hall remix from annie hall on Vimeo.
Mental Reaction (5:57)
Mental Reaction is the antidote to 'austerity' via classic Detroit warehouse techno.      A new throbbing, syncopated Scan 7 classic Detroit rhythm hails us, freeing up accumulated, pent-up anger having to cope day-after-day witnessing cowardly, hypocritical elites avoiding culpability for wrongdoing in the world.    Warm, rhythmic  frequency distributions align logical and ethical sensibilities hypnotically.    Mental Reaction is a new Scan 7 legend to reveal dance-activist pathways to higher ground in the face of adversity.
Mental Reaction (Remix by Annie Hall) 6:29
"Electro-drum breaks, deep bass line,  soul-influenced warm Detroit-flavour summer track.  Influence:  Funk" — Annie Hall 
Noise Tension: 7:37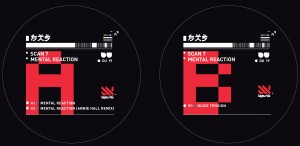 Scan 7 demonstrates afresh the 'Viet Cong' theory of war — if you don't know who we are you will never defeat us — in the form of a a new original Detroit techno floor stomper Noise Tension.  NT replaces music with violence, politics becoming war by other means.  Scan 7 guerilla-warfare inverts weapons violence by oppressors with weapons of music and innovative performance practices,  keeping  us questioning, keeping us together as we experience myriad jubilant tensions, e.g. dance freedoms beyond censorship and governmentality.  Like fictive characters traveling with/as Dorothy in The Wizard of Oz we at Detroit Underground proudly presents new Scan 7offerings of absolutely new Detroit frequencies and tones liberating critical consciousness as identity becomes unhinged. 
Mental Reaction ep is an original Scan 7 release on Detroit Underground of classic Detroit warehouse techno and electro via two new tracks and a remix.
BIO: (taken from discogs™)
Scan 7
Real Name:
Lou Robinson, Ghost, WysPurr, THE VOICE, INTEL, BLCK LIGHT
Profile:
Closely related to Underground Resistance, Scan 7 is a mysterious Detroit underground collective gathering seven artists, and lead by Lou Robinson.