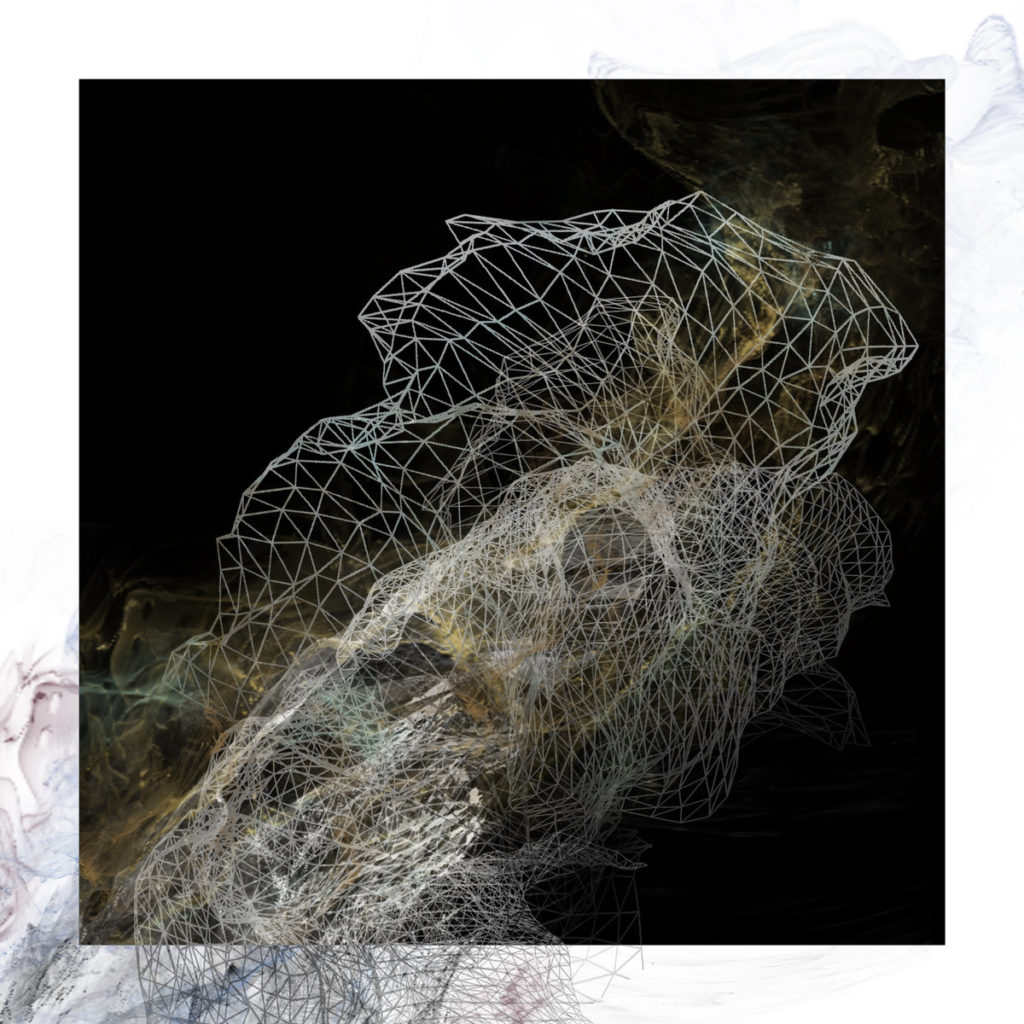 この"Fundamental Significance"というアルバムを、Ikuは、「自分とは何か?」という問いをテーマに制作したという。The main theme of this album is " what am I "says IKU
それと
相反するかもしれないが、この作品は、聴かれることによって初めて完成するのかも知れない。
But this album will be completed it's truth by listening to
作曲者の意図により、律動と和声
の機能性を剥ぎ取られた曲たちは、逆に聞き手の想像力を反映してあらゆる機能を持ちうるのだ。By removing all the polyphonies and dynamics from tracks, this album triggers listeners various imaginations
自分自身の姿は、決して自分の目で直接観測することはできない。鏡が必要だ。しかし、鏡は、その前に立った人すべてを映す。
You can't see yourselves without mirrors . We need mirrors to see ourselves. But mirrors reflect people who are standing in front.
"Fundamental Significance"は、Ikuから私たちに渡された鏡なのかも知れない。
F.S. May be symbolized as a mirror handed down to us from IKU
アルバムは、"unfinished"で幕を開ける。水の流れのような音。重い金属がぶつかり合うような音。
This album starts from tracks named " unfinished ". Sounds of water flow and crashing metals.
この対比は、まるで、
川底から、対岸の工業都市を見上げるような気分にさせらせる。
It's like watching heavy industrial plants from the bottom of a river.
この曲の後半からは、上昇するシーケンスフレーズと、鐘の音のようなシンセサウンドが鳴り響く。
それとともに、聴き手である我々も、水中を浮かび上がり、アルバムの世界へと、
足を踏み入れいるのだ。
The latter part features elevating sequence phrases and bell-like sounds which bring us to the portal of the album.
このアルバムには、はっきりとしたビートを感じさせるような曲はあまりない。少なくとも"クラブで踊るため"という類の
明確な機能性を持ったリズムは存在しないのだ。
Most tracks of this album don't have solid shapes of beats suitable for floor.
ただし、不思議なことに、"significance"では、まるで、ディスコチューンのようなベースサウンドが登場する。本来、それとセットになるはずの、ドラムセットは存在しないのに。
辿り着いた工業都市で、打ち捨てられたディスコの扉を開けると、ベーシストがたった1人で演奏を続けていたのだろうか?
The sounds of disco bass without drums will take us to the abandoned disco in the industrial city where a bassist plays alone.
いや、そん
なはずはない。事実、"significance"は時間軸ととも形を変えてゆく。連打される重低音とともに、音像は姿を消して行き、我々はそれが幻であったことに気が付き目覚めるだろう。
That's maybe an hallucination.
Truly "significance " changes its forms as time passes. As the continuous low frequency sequences appear , our hallucinations disappear.
"significance"に象徴されるように、このアルバムを通して聴いていると、現実と非現実の間に立ちすくむような、なんとも言え
ない不思議な感情に支配される。
Listening to this album starting from "significance" , it drives our consciousness to the verge of reality.
スネアやハイハットのかわりに、周期的なパルスと、うねる低音の流れに身をゆだねること
ができる。メロディーは現れなくても、"establishment"の、左右に飛び交うノイズと、レーザーの様な鋭い高音の組み合わせは、
聴き手に、ある種の昂揚感をもたらす。
We can devote ourselves to sequential pulses or swells of low frequencies instead of snares and hi-hats.
The sounds of non melodious "establishment " filled with panning noises ,high energetic beam sounds drive us to a certain level of dazed and confused.
Album review written by konofumin ( soundcloud.com/konofumin )
credits
released January 17, 2017
Fundamental Significance Written & Produced by Ikuko Morozumi ikunixx.hannnari.com
Video by Ikuko Morozumi
Follow:
soundcloud.com/iku1956mz
www.tumblr.com/dashboard/blog/ikunixx
Album cover design by: Yoshiko Akita. akitayoshiko.com
Cat# DETUND LTD 16
IKU BIO:
Musician / Ikuko Morozumi / Iku.
Creating a sound with powerful bass as its axis. An artist who jumps freely among various genres such as Techno, Electronica, Experimental, Noise, Glitch, Industrial, Contemporary. Currently she places her computer at the center of production, but also has experience playing piano and guitar. Also has different moniker as solyutesjy.
She has appeared in many events mainly in Tokyo including "Ito Atsuhiro presents TRONITO / Kobayashi Kei n EXPERIMENTAL LOUNGE / DIGIANA".
Released 1st EP "Imagination" from Detroit Underground in 2015.
Released Nolens Volens Remix album "I R L 1 & 2" from Tush Records in 2016.
–
–
音楽家・Ikuko Morozumi/Iku。 力強い低音を軸とした音響を生み出し
Techno,Electronica,Experimental,Noise,Glitch,Industrialなど様々なジャンルの電子音楽そして、
現代音楽の間を自由に飛び回るアーティスト。
現在はコンピューターを制作の中心に据えているが、ピアノとギターの演奏経験も持つ。
パルスのようなリズムと無機質なノイズの嵐の中で、ほのかに、
あるいは一瞬のハーモニーが見え隠れするのはその経験から導かれているのだろう。
それは嵐の終わりに重い灰色の雲の隙間から、かすかに日が差す瞬間とよく似ている。
伊東篤宏 presents TRONITO/小林径 i n EXPERIMENTAL LOUNGE/DIGIANA/他、
東京を中心に多くのイベントに出演している。
2015年米Detroit Undergroundより1stEP「Imagination」をリリース。
2016年米Tush RecordsよりNolens VolensRemixアルバム「I R L 1 & 2」をリリースしている。
別名義solyutesjy(ソリュテソジィ)としても活動開始。