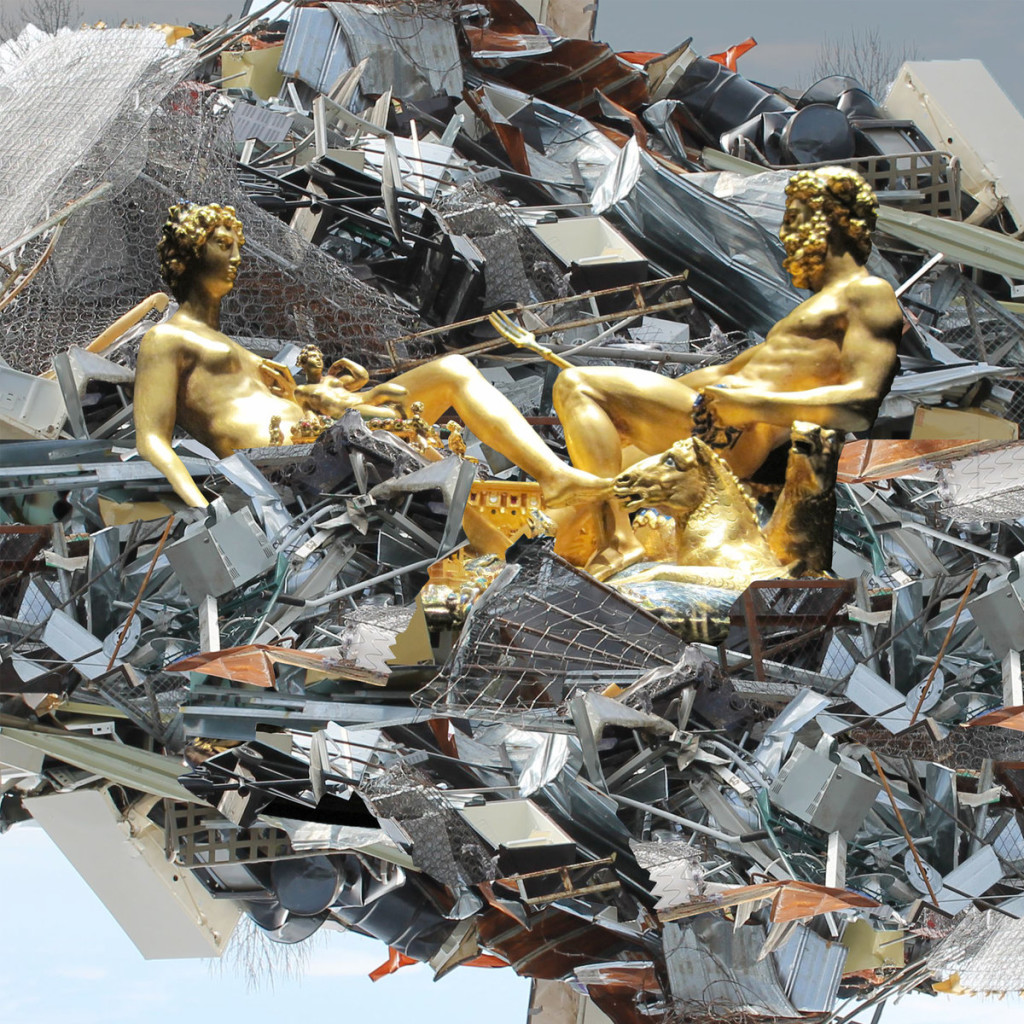 The LoFI Freq – Sinking Values
cat#[DU-BNKA1]
Like cruel and indistinguishable laughter trapped somewhere in cobwebs of pale blue curtains. Forcing dust into the air, burning hands and cracked mouth. Footsteps sped up, radiating across open space, thrown about to trap you there, trap you there behind those pale blue curtains. You peer out, open pupils gazing through gauze, waiting in agony.
Was that a mutter? A mumble? One voice? Two voices? Fingernails tap along empty corridors, shuffling against peeling wallpaper, yellowing mint green. Listening so hard can make you dizzy. You grasp your throat, parched. You try to swallow. What was that? What was that? You moan. It escapes your lips in raspy fragmented exhale just barely audible. Wrap your broken body in string. Patience is a virtue.
Doors open and never close, incessant creaking along never-ending nothingness and into absolute darkness. Except those pale blue curtains, somehow pale and phantom in the distance, your shadow curled up and contorted, visible as though backlit.
—
But the sun rises after all and the creaking stops and the murmurs hush into oblivion and you raise your head and greet the room, furniture wrapped in sheets, trails of your shuffled frantic footsteps in layers of lint and dust and skin.
You walk out, down the corridors, which do end after all. And the voices are your own, bouncing back and forth as your shuffle turns to strides turns to saunter turns to bounce.
This world is blue. Not pale blue like the curtains, but electric blue like the inside of a particularly vibrant blueberry. Nothing like the sky. Nothing like the ocean. Unnaturally blue. And noise is expanding, expanding on a plane level to the ground. You step on it. You saunter on it.
Your footsteps crinkle.
—
The LoFi Freq is a music project of Portland-based Nathan Kampf. Taking his roots from the underground electronic music scene of the early 90s, LoFi Freq's sound is a combination of old school and new; creating dynamic soundscapes that unfurl and modulate into bass-heavy broken beats, pulsing with the saturation of gritty effects and supple layering.
'Sinking Values' is The LoFi Freq's first release with Detroit Underground.
~ words by Sophia Warren
cat#[DU-BNKA1]
Sinking Values Cover Design via UltraBianka
W+P by: Nathan Kampf aka The LoFi Freq
www.facebook.com/LofiFreQ/
Nathan has done programming and sound design work for many different projects including film, movie trailers, and video games. He has also programmed sound for innovative companies including Native Instruments, Dave Smith Instruments, Somatone Interactive, Remote Control Productions and HiFinesse Music & Sound.
Sinking Values cover design explanation:
Exactly 10 years ago: Police recovered the stolen 'Mona Lisa of sculptures' the Cellinis Salt cellar. On 11 May 2003, the Saliera was stolen from the Kunsthistorisches Museum, which was covered by a scaffolding at that time due to reconstruction works. The museum offered a reward of €1,000,000 for its recovery. The Saliera was recovered on 21 January 2006, buried in a lead box in a forest near the town of Zwettl, Austria, about 90 km north of Vienna. This is the story of Ultrabianka's Sinking Values artwork.