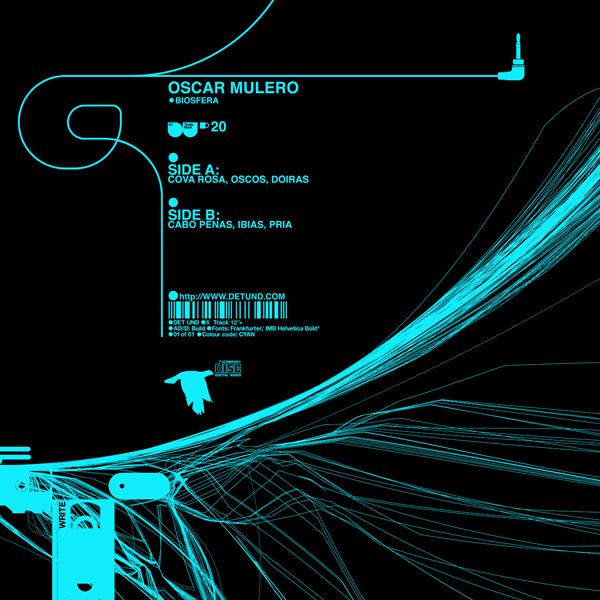 BIOSFERA is the first full-length conceptual album from Oscar Mulero • now available from Detroit Underground.
BUY NOW FROM JUNO.
BUY NOW FROM FROM DEEJAY.
BUY NOW FROM CROSSTALK.
BUY NOW FROM HARDWAX.
DIGITAL:
ITUNES
BEATPORT
AMAZON
SPOTIFY
After twenty years on the road as international ambassador of electronic music BIOSFERA marks a return home for Muleros. BIOSFERA is comprised of seven experimental soundscape compositions each inspired by a different Autonomous Community in the Principality of Asturias — the mythical, semi-mountainous region on Spain's north-west coast. The result is an exceptionally rich aural tapestry of lush spatial environments from one of the world's foremost sound designers.
In Cabo Pe Muleros reconstructs through music massive white limestone chunks of Iberian peninsula emerging from the Atlantic like the spine of some ancient creature. Muleros breathes life into this ancient creature making BIOSPHERA a vehicle for us to ride upon together and generate new collective assemblage of enunciation to contest 'austerity.' In travelling to Asturias via sound we too defy the speed and extent to which living standards are getting worse in Spain and elsewhere.
The haunting yet uplifting track Oscos leads us simultaneously backwards and forwards in time via repositioning voice samples of an American confessing to his involvement building a secret biological weapons facility at the Los Alamos jet propulsion/nuclear bomb lab. Resituated in the context of Asturian resistance to military invasion Oscos suggests we can draw from history the power and knowledge to effectively combat emerging practices of aerial bombardment e.g. Obama's drone warfare. Asturians, like many now under threat of drone strikes, were the first to experience aerial carpet bombing in the early-1930s, such was the fascist response to their refusal to acquiesce independence. Oscos enables us to draw parallels across disparate events of history; President Obama, like Franco before him, declares himself to be above the rule of law, when murdering others including US citizens. One of the great accomplishments of BIOSPHERA is that it refuses to allow acoustic ecology and soundscape production to be non-political.
Layers of lushly ethereal, super-chilled sound rush through Pría establishing an entirely new score with which to contemplate the results of anarcho-syndicalism leading to autonomous communities. Judging from the music one of the accomplishments of communities like Pría is that part of their 'anarchism' is just how pleasant and amenable they are to live in! We can only but presume that this place is profoundly tranquil, where one might reside with others, with nature and with oneself harmoniously — a track of great sustenance for those of us living in cities using sound as a means to cope with various forms of dissonance and cacophony.
Cova Rosa is an idyllic track constructed like a terraced hamlet etched into rugged hills. There is a profound sense of health and healing in these tracks. Awareness of Asturian healing and reconciliation powers goes back at least as far as Cervantes' Don Quixote, first published in 1604. In what is now considered the greatest book of all time (as voted by the Nobel Institute) it is Maritornes 'the Asturian woman' who nurses Don Quixote and Sancho Panza back to health after a severe beating.
Perhaps more than any other track Ibias spans resistance, restoration and reconcilition. Muleros' accomplishment is to produce contemporary electronic music as worthy complement to great works of literature particularly Cervantes' Don Quixote. Through listening it appears that what Asturias has to offer the world is, like Don Quixote, invaluable. Amid the lush, chilled-out easy going vibe is contemporary experimental soundscape composition that is trenchantly political — this music is very much a critique and partial antidote to the neo-liberal demolition of civil society.
Valledor (available on digital release only) affirms the fashioning of active, participative community as a bold adventure, as a means of engagement with romance and tragedy so as to change the world. Taken as a whole the seven communities and their soundscapes emerge as anarcho-syndicalist warriors, equivalent to Kurosawa's The Seven Samurai, Aeschylus' Seven Against Thebes and other great works of art where the magical number 'seven' creates unconquerable relations of power/knowledge.
We believe BIOSFERA is necessary because it draws upon arts of listening developed by Mulero in Asturias. wherein he listened to a unique people and the sounds of their environment. These people, the Asturians, achieved their autonomous communities as a consequence of their unique practices of listening to one another and their environment. As Pauline Oliveros says, "The way a community listens is the way it evolves."
Each album sleeve is handmade and unique, combining design by Build, London UK and splash painting by Kero in Detroit. Limited 500 release. Screen printed in detroit at Wet House.
[nggallery id=1]
OSCAR MULERO INTRODUCES BIOLIVE, NEW AV IDM PROJECT:

Download Oscar Mulero DETUND podcast here.
Oscar Mulero Resident Advisor™ interview