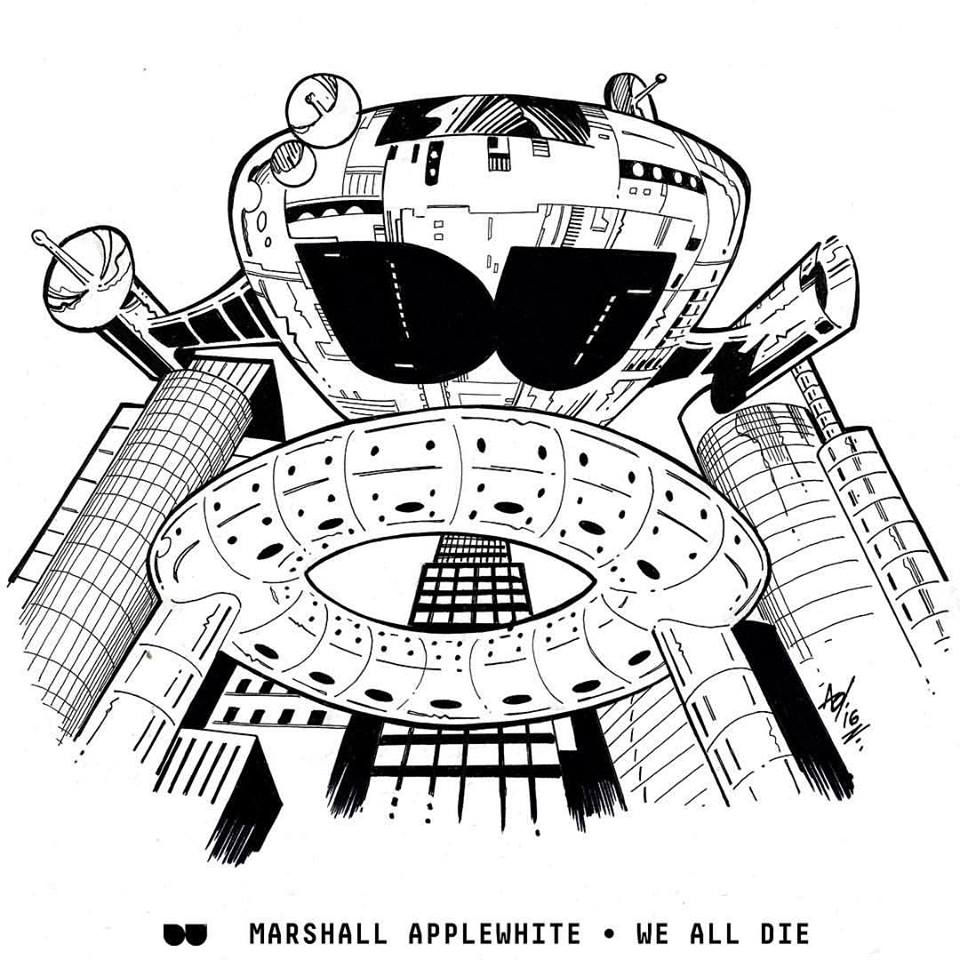 Keeping on with the slow tempo, bass terror, Applewhite presents 5 all new songs geared towards the inevitability of death.
As such, the sound on this release embraces the terrible serenity that one could only imagine existing in a state of nonexistence. While crafted for dance floor use, all of the songs work just as well in private setting.
"3 Years Of Decay" pulls major lows and haunting subscapes but has a glimmer of melody intertwined for movement.
"When I Die" and "Stop Throwing Up" draw more from the bass music word. "When I Die" being more of a slowed grime song with sludge aesthetics, and "Stop Throwing Up" being a stripped down, rhythmic pulsation.
"Buried Face Down" keeps the sound flow moving with ripping sequences and choppy drum patterns.
Artwork by Alan Oldham
cat#DUAO3
• REVIEW BY iglooMAG™
"Marshall Applewhite has had a handful of music released on How To Kill, Clan Destine, Senseless Neon and his own YoSucka! Music. With Detroit Underground, several EP's and a full-length leftfield smorgasbord titled Human Individual Metamorphosis have more than infiltrated the circular cosmic spot we inhabit. A product of genuine, raw and submerged electro-techno, We All Die gears itself towards darker corridors.
"3 Years of Decay" shimmies an industrial techno slant, clang and ferocity. Over 5-minutes of tasty repetitious thumps, it continues to grow organic tentacles. The title track smears a lopsided pattern around echoed four by four beats and eventually bends and twists its analog rhythm. "Stop Throwing UP" is where Marshall Applewhite ignites his gear and breaks through a de-tuned haze filled with hypnotic claps and low-end rumble. "Buried Face Down" veers in a similar pathway where scorched acid lines contort in all directions and yet a vivid old-school layer is unearthed. Some might recall similar output that once came out of The Building in the early 90s—a prolific Plus 8 Records studio where Plastikman and cohorts orchestrated their sonic signatures in Windsor, Ontario—situated across from Detroit. It all comes full-circle with "Milt" where a myriad of synthesized blips and bleeps are sporadically placed around bustling bass beats and broken melodies that dance together in harmony. "Milt" melts in a sort of early Aphex Twin meets Lackluster dynamic.
We All Die states the inevitable, but it also aims for audible perfection where slow-motion electrical sounds resonate, rattle and rummage. A bemusing yet impacting downtempo EP, this is multi-directional music for the senses—on and off the dance floor."